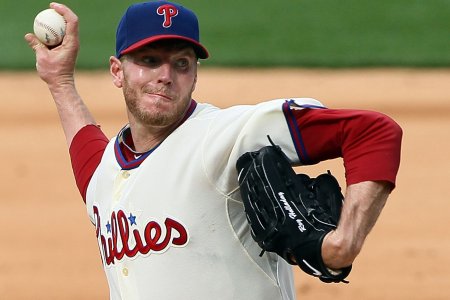 It's always fun to take the piss out of players and teams that's what sports fans do, but then there are those guys who deserve nothing but full props for excellence. Doc Halladay is one of those cats.
Halladay has been straight dealing this year, and after his perfect game against the Marlins, it's time to pay homage.
Is there a harder working, more reliable starting pitcher in the MLB than Doc Halladay? At this point everyone is ready to give Doc the undisputed crown of being the best pitcher in the MLB, but the truth is, he's been that for years, quietly kicking ass season after season for a diminutive Toronto Blue Jays team, without a legitimate closer.
Harry Leory Halladay, the "Doc", spent 12 seasons with the Toronto Blue Jays before being traded to the Philadelphia Phillies in what diehard Blue Jays fans will now likely describe as the worst trade ever.
In his years with the Jays, Halladay averaged 17 wins per season, he was a six time allstar and a Cy Young winner, but Doc never had a perfect game until he put on a Phillies button up. After watching Halladay pitch over the years, and then watching the Doc throw a perfect game against the Marlins in which he struck out 11 and dismantled the entire Marlins lineup for nine clinical innings, on just 115 pitches, like many others I wasn't surprised. As impressive as his performance was by throwing just the 20th perfect game in league history, I was actually more surprised that he hasn't had more perfect games and no hitters. While that may be ridiculous to say, if you look at Doc's pitching resume, the man flirts with perfection several times a year.
Just to put it into proper perspective of the true domination Halladay has had already this year, in ten starts this year, Halladay has already thrown three complete game shutouts and that's not even counting the perfect game. His ERA is a squeaky clean 1.99 and he's second in wins in the league with a record of 7-3 on the year. Despite his excellent numbers, it's his work before he steps on the mound that might be his most admirable quality.
The Doc is always on call. Already this season, Halladay has thrown five complete games. Most pitchers won't throw that many in two seasons these days with the paranoia around pitch counts and how quickly and early bullpens are being utilized. But Doc is a throwback, a true work horse and a master of his craft. The 6'6, 230 lbs righty and Denver Colorado native, has an amazing workout routine and trains even on his days off. He's a leader, a warrior and even though the Jays have been playing well since the trade, the Phillies came out on top with Doc. If you're betting MLB, any time you see the name Halladay as the strting hurler, taking Philly on the moneyline is damn near becoming a sure thing. The way Halladay is pitching this year, he might be looking at his second Cy Young of his career. If he does get that award, he'll join an elite class of pitchers including Gaylord Perry, Randy Johnson and Pedro Martinez as the only pitchers in history to win the award in both leagues.
If things remain stat quo for Halladay, he's already got my vote, that is, if I had one.