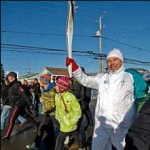 Recently, the International Olympic Committee sought the gaming community's help in helping to maintain the integrity of sport by reporting any suspicious betting patterns on events at the Vancouver 2010 Games. Most operators were only too eager to comply with the IOC's request, primarily because match-fixing could do serious damage to their bankroll. But for Morris Mohawk Gaming Group's CEO Alwyn Morris, the matter was personal.
Morris, who operates Bodog.com via MMGG, was a gold medal winner in sprint canoe at the 1984 Summer Games, and just this December served as an Olympic torch bearer through the Mohawk Territory of Kahnawake. He's seen firsthand how scaling the heights of Olympic excellence can inspire a community, but Morris is also aware that just as all major league baseball players have been tainted by the steroid confessions of Mark McGwire and Jose Canseco, it only takes a few high-profile Olympic cheats to sully the reputations and diminish the achievements of Olympians past, present and future.
With that in mind, it's no surprise to learn that Morris wrote a personal letter to the IOC, stating that "MMGG understand and support the IOC position and are keen to assist. To this end we will amend our Terms and Conditions to enable us to communicate any irregular gaming activity relating to the Olympics from Bodog.com and will pass on details of activity deemed to be irregular."
Similarly, Keith McDonnell, Managing Director of Bodog Europe (the licensee who operate Bodog.co.uk and Bodog.ca) stated; "Bodog Europe is absolutely committed to ensuring that any irregular betting patterns are identified quickly and communicated to appropriate bodies, not just for the Winter Olympics, but for any sport upon which Bodog Europe accepts wagers." Read more.
Comments