Are you serious? I cannot believe I attended so many igaming conferences, parties, poker tourneys and award ceremonies all over the world, all within the space of 365 days. Holy crap, I think I'm still drunk.

Throughout the last few weeks I have read and watched all sorts of "2009 year in reviews" and I could not help but think, especially now that the word "socialite" is officially a part of my title, I really should put one of these together for the igaming conference and party people. We're talking some amazing memories here, and seeing as many of you attended the very same events as I did, you are part of these memories too.

Ok, who am I kidding. I had so much fun in 2009 that I don't remember very much of it…and I'm pretty sure the same goes for the majority of the igaming crowd. Thank god for the pictures!


January 2009: Caribbean Poker Adventure
Luxury, luxury, luxury, roulette, gambling, poker celebs, Aura, Cove pool, luxury, luxury, luxury. Right, and poker. I'm not really sure how else to describe it- Pokerstars really knows how to entertain affiliates and players, that is for sure. The entire Atlantis resort was crawling with Pokerstars players and famous poker celebs during this huge poker adventure. I was even offered the opportunity to play some poker with Chris Moneymaker, Joe Hachem, and Victor Ramden, which of course I took, and but then proceeded to totally embarrass myself. Hanging with Gus Hansen in the Atlantis casino wasn't too bad either.
(Original article and pics).


January 2009: ICEi and Fire&ICE
Oh I love that bar full of European men in suits right smack in the middle of ICEi…hit that up for a few hours each day and you're done! At least, that's what I did last year. I also did the Fire&ICE party, my third one in a row, at the Babylon-themed Gilgamesh. This party was complete with a stage hosting all sorts of performers- men swallowing swords, women swallowing fire, people twirling parasols, boa constrictors, igaming idiots dancing with each other and wearing weird hats, fake mustaches…you know, the usual.
(Original article and pics).


January 2009: The Late CAP Awards (now known as iGB Affiliate Awards)
Unfortunately I was late to this event and missed the cocktail hour as the journey in a cab took FOREVER- I forget how big London is sometimes. On the bright side, I did make it in time to join the Pokerisivut.com table for wine, dinner and Michael Caselli's captivating and energetic delivery of the awards. Following the awards I stuck around the venue and drank enough wine to potentially kill someone…and apparently all my brain cells because I don't remember what happened after that.
(Original article and pics).


January 2009: The Late CAP Euro (now known as London Affiliate Conference or LAC)
Now this was an interesting experience. For those of you who remember correctly, CAP decided to ban the entire GPWA team, which included me at the time, from this conference. Ya, long story. It all worked out in the end though…I thoroughly enjoyed spending my days planted in the conference hotel lobby, and in the end, I was allowed inside the rompa room thanks to Bob Rains and Alex Pratt who talked some sense into the CAP management. Also, the "banning" did not include conference networking parties, so I didn't mind the situation one bit. As you can see from my pictures, clearly I still had the time of my life.
(Original article, pics part 1, and pics part 2).


March 2009: CAC Amsterdam
Oh it was so depressing…I could not believe that people were forced to choose between CAC and AAC, directly resulting in half the attendees expected at both events. We love the Krasnapolsky, we love the redlight district, Euro Pub is great, I love the canal cruises and I especially love the sex museum. Even though CAC was a rather thin crowd in 2009, I still had fun- I met Ice Cube and E-40 at the Krasnapolsky, Karim treated a big group to Teppanyaki, we dined on beds at Supperclub, I spent some QT in the red light, I ate cow knuckles one night for dinner, and Jenny Woo was there. Lesink, I'm delighted you're sticking with this crazy igaming conference world because WE LOVE AMSTERDAM!!
(Original article and pics).


April 2009: The Late Amsterdam Affiliate Conference (AAC)
Then came along the big, bad competitor of Lesnik's CAC. Originally branded as CAP Euro Amsterdam, the name and management quickly changed to Amsterdam Affiliate Conference and iGaming Business after the shenanigans that happened with CAP and CardSpike in early '09. Despite the unavoidable association with CAP, this conference ultimately ended up attracting more people than CAC, and I would have to say it was a greater success. Hey, who even cares now…AAC is o-v-e-r. I will say one thing, though…AAC surely got the timing right by coordinating with Queen's Day in Amsterdam. I've never seen a city party that hard in my life- everyone was drunk in the streets and wearing orange all day and all night, even Caselli was doing it. Unbelievable.
(Original article and pics).


June 2009: Affilicon Israel
This conference could have completely sucked and I would still say that I loved it because I love Tel Aviv. Simple as that. Totally safe, amazing weather, right on the ocean, great nightlife for conference networking, a fine selection of restaurants, and the list goes on. Aside from the fact that Tel Aviv rocks in every way possible, the beauty of having a conference in Tel Aviv is that 75% of the industry already lives there. For those of us who don't, sure, it's hell getting past Ben Gurion airport security on your way out, but it's worth it. Search me baby, I'm totally coming back.
(Original article and pics).


June 2009: Pokerisivut bileet
The Fins behind Pokerisivut sure as hell know how to throw a party. The Pokerisivut bileet was thrown after the Midnight Sun poker tourney at the Helsinki casino and invites went out to friends, family, and to 150-200 of the most active Pokerisivut members. These guys rented out an entire floor of a popular Helsinki club, stocked the tables with booze and mixers, opened the bar for everyone, flew in models from Sweden, brought in photographers, cameras, famous poker players, excellent music, a hoppin' dance floor and everyone had one huge night of fun thanks to the Fins. I love Scandinavians!
(Original pics).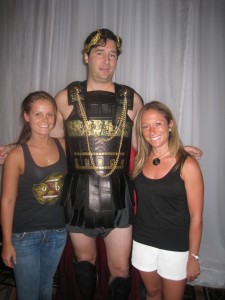 July 2009: WSOP Main Event
Starting in 2005, each year I have made the pilgrimage to Vegas for the 4th of July weekend and the main event of the WSOP. To be perfectly honest, I usually do not watch very much poker at the WSOP, and this was certainly true for my 2009 visit…I hit the pool, went running on the strip, spent some after hours with poker celebs and enjoyed the WSOP parties. I also enjoyed meeting Phil Helmuth in the UB hospitality booth right after his grand entrance into the main event dressed as Julius Caesar. Yes, I saw the grand entrance too. Very modest and tasteful!
(Original article and pics).


August 2009: VegasInsider.com Sports Handicapping Seminar
Clearly I did not know much about handicapping in August of 2009 when this event took place, but after hanging with Peter Gold a few times and actually interviewing him, now I'm practically an expert. Well, not really…but James Manos sure is. This event was crawling with high profile handicappers, including Mr. Manos, and the cocktail reception was pretty much all dudes except for Jenny Woo and I. I don't know about you, but those are some pretty good odds if you ask me.
(Original pics).


August 2009: SBR Bash
As "BodogBecky" across all igaming forums, it's important that I attend all forum parties so the posters realize that I am a real person with feelings so they will stop bashing me on the forums. Kidding, kidding- I loved attending the SBR Bash at the Golden Nugget and meeting the guys behind SBR and some of their most active posters. The Bash included a poker tourney with Evelyn Ng, a reception with dinner for everyone, a rap presentation and a direct address to posting legend jjgold from Lostache, and a big night out of boozing with my newly found SBR poster buddies.
(Original pics).

September 2009: Budapest Affiliate Conference (BAC)
What a success this conference was! Budapest was a new location for the igaming affiliate world and it replaced the Barcelona conference from the previous two years. Alex Pratt decided to move locations because of safety issues…I'm all set with getting mugged at the end of my night, and I kind of like my purse and I don't want it stolen, so thank you Alex, I appreciate the move. Also, Budapest is a fantastic venue for our crazy crowd- gorgeous weather, nice people, good looking people, affordable, and Bed Beach (our nightly late night destination) is probably the best club I have ever been to in my life. Also, lets not forget the epic "Phantom of the Opera" keynote presentation from my very own boss Calvin Ayre…pretty ridiculous, wasn't it? I loved it, its possible you may have hated it, but to use Calvin's words, "it wasn't fucking boring". Now that's for fucking sure.
(Original article, pics, conference video and party video).


September 2009: EiG
I am going to be honest from the start…it was difficult to find post exhibit hall energy for this conference as it took place right after the BAC. Thankfully, the nightlife in Copenhagen, the location of EiG, is much quieter than the Budapest nightlife and the EiG crowd is much quieter than the BAC crowd. Also, Copenhagen is insanely expensive so people could barely afford to drink- lucky for me, most drinks were free thanks to the sponsors of EiG networking events, and when those were over, I still got to drink for free because I'm a girl.
(Original article, pics, and video).


November 2009: Scandinavian Affiliate Super Summit (SASS)
Såja. I think this little word says it all. For those of you who don't know what it means, Stockholm is my favorite city on earth- I love it even more than Tel Aviv- so clearly anything happening here is going to be high on my list. I also love smaller events such as SASS as they are conducive to spending more "intimate" time with people, such as my intimate interview with Karim. That was really fun. The networking events were pretty amazing as well, with some stellar performances from AffiliateTipsAgents.com and Pokerlistings.com…my god these Swedes know how to embrace the "Work Hard, Play Hard" lifestyle.
(Original article, pics, and video).


December 2009: EGR Live
This event truly impressed me…I thought the Old Billingsgate venue was going to be empty, but much to my surprise, it was packed both days and people were hesitant to leave when it closed down on the second day. Amazing! Well, the event was free for all attendees, so maybe it's not so amazing…maybe typical is the better word. Regardless, I really enjoyed the conference and I had a great time interviewing people about Christmas traditions, although next time I think I will make my questions a little bit easier.
(Original article and video).


December 2009: EGR Awards
Loved it. Loved every minute of it! For the first time ever, I covered an event "red carpet style", even though there was no red carpet. It's cool though, I wore a bright red dress to make up for it. The awards ceremony itself took place immediately after the cocktail hour, I interviewed each award recipient and sponsor as they stepped off the stage, and then we moved into the party room for dinner, drinks, dancing, poker tourneys, and drinking games with Karim and Adriaan. Yikes.
(Original article, pics, video pt 1, video pt 2, and DAF award).


December 2009: Holiday iGaming Social
Ah, the infamous Chinawhite. I especially enjoyed this party because the men decided to go topless and dance on our VIP tables towards the end of the night. Have you ever had the pleasure of spending time with a topless Caselli? If not, you're truly missing out. Hats off to Lyceum Media for hosting a holiday party at a hot London club lasting until 3am on a Tuesday night- only you could pull this off. Mark my words, next year I'm bringing Calvin and the midgets.
(Original article, pics and DAF award).

Now do you see why I love this industry? Happy New Year everyone, and bring on 2010! I think it's safe to say we're all in for one wild ride.
Comments